ZOOT 4 LAUNCHES AT LAST
DELRAY BEACH, July 10th. - The information-processing ship Zoot 4 was officially launched today, before a crowd of thousands, at the Delray Beach
shipyards.
The ship spearheads a new era in intelligence gathering. It can sneak up on a larger information storage ship (such as the M.S. Outlook), attach itself to its Outboard Leveraging Extension (OLE) and start extracting and injecting information. The Zoot's outstanding agility then allows it to quietly process the borrowed data and generate valuable intelligence.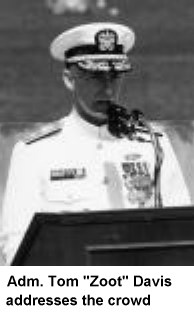 Unusual Ceremony
The christening ceremony was unusual in more ways than one.
The crowd itself was unusual, with most attendees calling themselves Zooters. Whereas such events are usually disturbed by photographers' flashes, in this case it was the incessant beeping of Zooters' PDAs that caused Security to get involved.
After some semblance of calm had returned, Admiral Thomas Davis, the principal architect of the project, briefly addressed the crowd. During his speech, he made some vague gestures towards a small building at the other end of the shipyards, which some speculate contains the plans for the new ship's eventual successor, the Zoot 5.
Adm. Davis cut his speech short because he had to resolve a dispute that had broken out in the audience. It was not clear to this reporter what the subject was, but it had something to do with a down-arrow and something called a tweak.
As the ship finally started slowly rolling out of dry dock, a moment of panic swept the crowd: the ceremonial bottle was ready to be thrown, but there were no female Zooters on hand to perform the actual throwing. The symbolic gesture had to be performed in extremis by an anonymous male Zooter, who had quickly put on a blonde wig and high heels. The large bottle of Catamount Ale nearly missed the ship's hull because the Zooter had also taken off his glasses.

Unique building materials
Under the ship's deceptively simple black-and-white paint job resides some unique technology. Industry experts say the Zoot 4 is made up mostly of a material called Vertical Building with Velocity Boost and Vermont Beer (VB3 for short). This top-secret material, apparently developed about 12 years ago by Microsoft Engineering, had seen some use in the early 1990s before being supplanted by stronger but heavier materials. Microsoft still denies that it has ever worked on VB3. Documentation on the very existence of VB3 has been disappearing over the years.
"Frankly, I'm amazed a ship this large and complex could even be built out of VB3. You can be pretty sure that this will be the only new ship based on these technologies this year", said Jane's Defense spokesman Arthur Finkle. "In fact, given diminishing expertise in that field, it's likely to be the last product based on VB3, period."